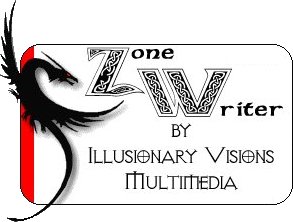 ZoneWriter: AberMUD zone writing utility. ZoneWriter works for pDirt, iDirt, cDirt, Dyrt, Dirt, and with any luck even more versions of AberMUDs. Written in VB6 by Excalibur.
View screenshots of Zonewriter in action.
The Zonewriter Downloads
Zonewriter Full Install - ZoneWriter v4 build 0708.0225. Full Archive. Use this full install if you do not have ZW installed on your machine.
Zonewriter Executable - ZoneWriter v4 build 0708.0225. Download this file if you have the 0606.0235 build of ZW already installed on your machine.
ZoneWriter Source Code v4.0708.0225 -- GPL release. If you wish to take on with development on this editor, learn from it, fix bugs, or compile it with later versions of Visual Basic, download this archive.
ZoneWriter Manual -- ZoneWriter Manual, full documentation with the software. v20030210.1602 preserve directories when unzipping to your zonewriter\manual folder.
Sample Custom ZoneWriter Configuration Files
Apocalypose.zw - For Apocalypse Abermud
Ebb_of_Reality.zw - For Ebb of Reality Abermud
pDirt_Generic.zw - Generic file for pDirt type Abermuds.
StormClouds.zw - For StormClouds Abermud
Atrocity.zw - For Atrocity Abermud